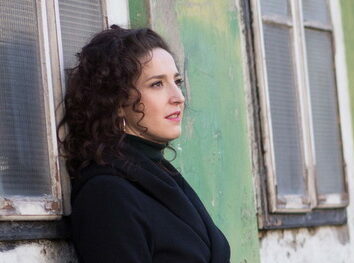 Acclaimed for her "warm and supple voice, magnificently supported" (Le Monde) and her stage presence, Chantal Santon Jeffery deploys technical qualities that have been unanimously praised and that allow her to tackle numerous repertoires, the most diverse roles: from Mozart (Anna, Elvira, Fiordiligi, Contessa, Sandrina… ), Wagner (Senta in the French version of The Flying Dutchman), Britten (Governess in The Turn of the Screw), Haydn (title role in Armida) and contemporary creations (Lolo Ferrari by Fourgon, Hochzeitvorbereitungen by Strasnoy), Hervé (Mélusine in Les Chevaliers de la Table Ronde), Boismortier (Don Quichotte chez la Duchesse), Campra (Tancrède), Rameau (La Folie in Platée, Temple of Glory), Gassman (Opera Seria) or Purcell (King Arthur, title role in Dido and Aeneas… ).
She has performed on many renowned European stages (Salle Pleyel, Théâtre des Champs-Élysées, Théâtre du Châtelet, Cité de la Musique, La Fenice, Palais Bozar, Palau de la Musica Catalana, Concertgebouw in Amsterdam, Bruges, Konzerthaus in Vienna, Rudolfinum in Prague, opera houses in Versailles, Bordeaux, Rennes, Avignon, Metz, Reims… ), in America (Teatro Colón in Buenos Aires, Palacio de Bellas Artes in Mexico City, Herbst Theatre in San Francisco…) or in Asia (Hong Kong Philharmonic, Yokohama Opera…).
Recent appearances include Dido and Aeneas at the Avignon and Reims operas, Lully's Phaëton in Nice ; Colin de Blamont's Erato's Caprice in Helsinki, Mozart's Mass in C minor, Werner's Der Verlorne Sohn, Rameau's Adonis in Budapest, Gretry's La Caravane du Caire at Versailles Opera, Poulenc's Mamelles de Tiresias and Stravinsky's Rossignol at the théâtre des Champs Elysées in Paris.
Upcoming : Poulenc's Mamelles de Tiresias and Stravinsky's Rossignol at Nice Opera…
Her extensive discography includes more than 50 titles. Recent releases include Offenbach's Maître Péronilla, Montéclair's Jephté, Boismortier's Voyages de l'amour, Messager's Passionément, Rameau's Dardanus and her latest recital Brillez Astres nouveaux.
Representation : GENERAL MANAGEMENT