Triumph for Nadja Stefanoff's Fedora at Oper Frankfurt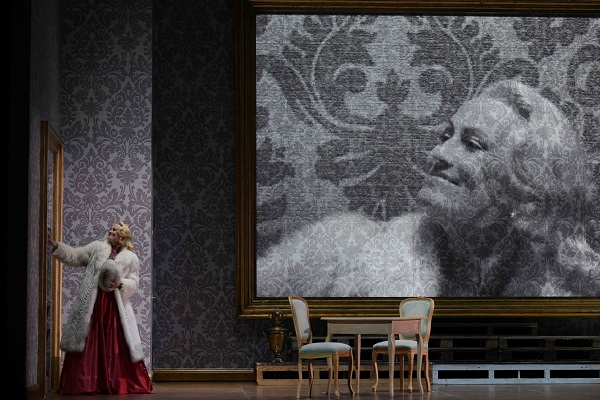 Der intensive Orchesterklang scheint auch Nadja Stefanoff in der Titelpartie zu einem Höhenflug verleitet zu haben. Schon in der Premiere konnte sie mit ihrem gut durchgeformten Sopran und ihrem präzisen Spiel überzeugen… Die Stefanoff hat sich die Rolle vollständig einverleibt. Jede Faser an ihr ist Fedora, jede Gefühlsregung kann sie mit ihren enormen stimmlichen Mitteln beglaubigen: den Schmerz über die Ermordung des Verlobten, die Rachephantasien, die Leidenschaft für den Geliebten Loris, die Verzweiflung über ihre Verstrickung in den Tod von dessen Bruder und Mutter, ihre Hoffnungslosigkeit am Ende. Das Publikum fühlt und leidet mit ihr. Dazu paßt sie mit ihrer noblen Erscheinung und ihrer Darstellungskunst perfekt zum Regiekonzept. Man soll ja mit Superlativen sparsam umgehen, sonst nutzen sie sich ab, aber diese Leistung kann man nicht anders bezeichnen als "grandios".
The intense orchestral sound also seems to have led Nadja Stefanoff to soar in the title role. Already in the premiere she was able to impress with her well-formed soprano and her precise playing… Stefanoff completely embraced the role. Every fiber in her is Fedora, she can authenticate every emotion with her enormous vocal resources: the pain over the murder of her fiancé, the revenge fantasies, the passion for her lover Loris, the despair over her involvement in the death of his brother and mother, their hopelessness at the end. The audience feels and suffers with her. In addition, with her noble appearance and her acting skills, she fits perfectly with the director's concept. You should use superlatives sparingly, otherwise they wear out, but this achievement cannot be described as anything other than "terrific".
Der Opernfreund